Amazon is the leading eCommerce marketplace in the world. Thousands of sellers participate there trying to reach their target audiences and make revenue from selling things. But the industry is very competitive, and an eCommerce start-up cannot succeed without a well-thought-out strategy.
Successful selling requires the ability to monitor and analyze a lot of data. Without this dedication and effort, even the best digital solutions won't boost your Amazon sales in the PrestaShop store.
In online selling, there are a lot of important metrics to monitor. In this review, we will focus on key aspects you can track. And we will take about our PrestaShop Amazon Integration that provides you a number of useful amazon tools for sellers. Let's examine 5 key metrics for an Amazon seller.
Order Defect Rate
What is Order Defect Rate on Amazon? In a nutshell, this is a metric that indicates the quality of customer service. It represents in percentage how many customers aren't satisfied with the quality of products or with the quality of service provided.
The Order Defect Rate is determined by the following things:
Negative review provided by the customer;
The A-to-Z claim;
The Chargeback claim.
Since the competition on Amazon is pretty tough, the marketplace doesn't tolerate Order Defect Rates higher than 1%. If you don't manage to keep it lower, the platform can even charge a suspension for your PrestaShop store. That's why you should pay a lot of attention to these metrics and a lot of effort to change the percentage for the better.
Inventory Performance Index
Amazon added one more interesting metric called the Inventory Performance Index. This metric measures the ability of a seller to manage the assortment and inventory of the online store.
The highest score one can receive here is 1,000. It's not obligatory to achieve it to be well-ranked. A score above 400 is a good indicator of your inventory performance. You should try to keep it not lower than 350 points since such an index means that you need to take serious actions to make it go higher.
If you manage to keep track of this metric, you will be able to prevent potential decreases in your sales.
Perfect Order Percentage
The Perfect Order Percentage is a metric opposite to the Order Defect Rate. If your store has a high Perfect Order Percentage, this means that all the processes that were involved in selling were executed perfectly. This metric takes into account the whole process – from placing the products in your stock to delivering them to the clients.
Keeping track of this metric allows for measuring the efficiency of your store. If you see that one aspect causes it to go down, you can faster determine what actions should be taken to eliminate the issue.
Fees
One of the ways to increase earnings without boosting sales is to decrease expenses. When selling things on Amazon, one of the expenses you have to pay are fees. Tracking fees might help to minimize them. Of course, you can't impact them, but you can see for which products the biggest fees are charged and regulate your assortment properly.
Smaller fees are charged for smaller products. Take a look at your stock. If there are too many big-size goods, maybe, it's a good option to substitute them with a bigger quantity of smaller ones.
One more helpful thing is to fulfill goods yourself. This might be too difficult if you have a large assortment. But if your online store is just a beginning Amazon startup, this might be very helpful at the beginning stage.
To learn more about amazon fees, you could be interested in our article – Is Selling on Amazon Profitable
Best Seller Ranking
Every hour, Amazon calculates and updates your ranking by estimating the sales of every displayed product. By monitoring this metric you can see how your different goods compete against each other during particular time frames. Based on this, you can estimate which products are sold better on certain occasions. Or you can also analyze whether your items are competitive against the products of other stores. Study and compare this to boost your Amazon sales on the PrestaShop store.
Salestio — PrestaShop Amazon integration and amazon KPI
After we discussed the all-important Amazon KPI, let's talk about how these metrics could be improved using PrestaShop Amazon Integration – Salestio.
Speed of delivery
Most of the amazon metrics directly or indirectly depend on the speed of order delivery.
What does it mean?
When you receive a new order from amazon that needs to be fulfilled by Merchants, you need to pack your product and ship it to your customer. But this is not the only one, additionally, you need to publish a tracking code together with a shipping carrier to Amazon.
In Salestio — PrestaShop Amazon integration we support two important options:
Importing Orders to your PrestaShop store
Transfering Fulfilment status to Amazon when order is shipped
All amazon orders are available in the Salestio application under the menu Catalog>Amazon>Orders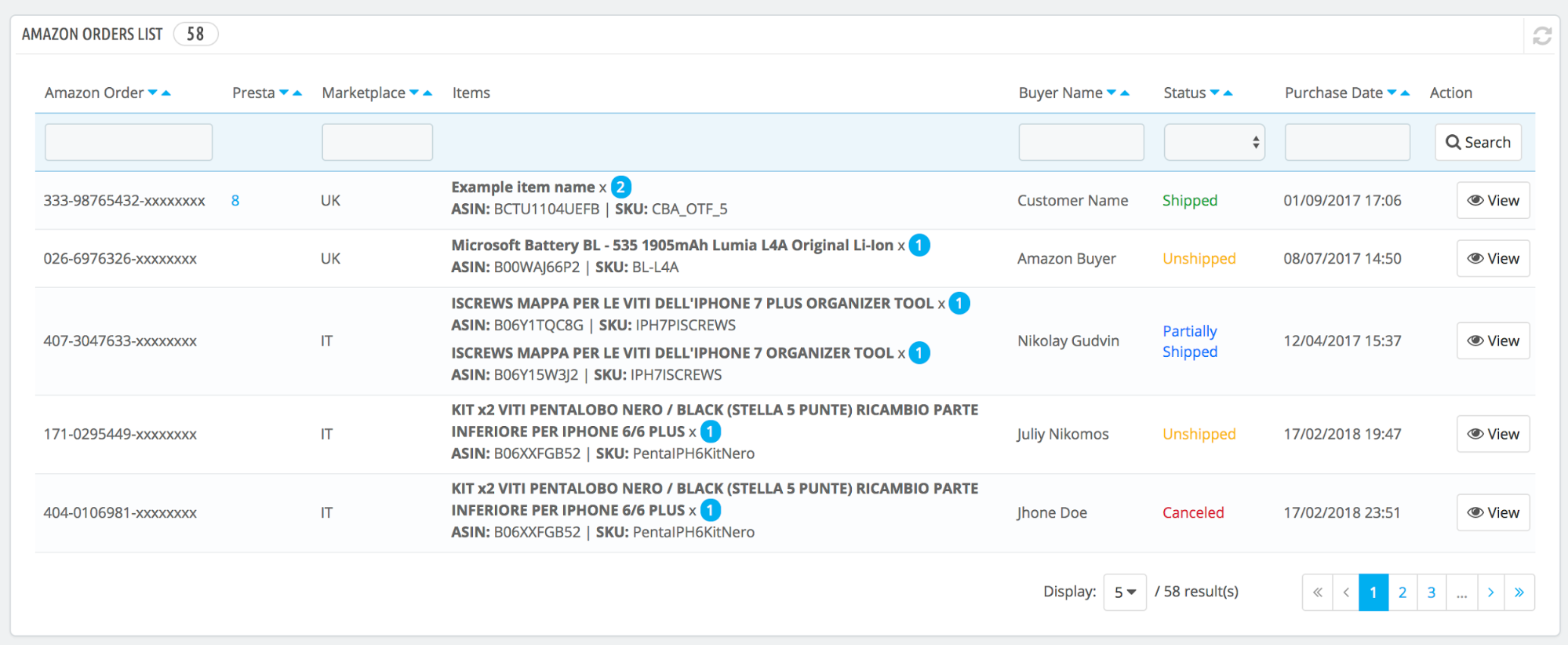 And for every order, you have the possibility to check the details there.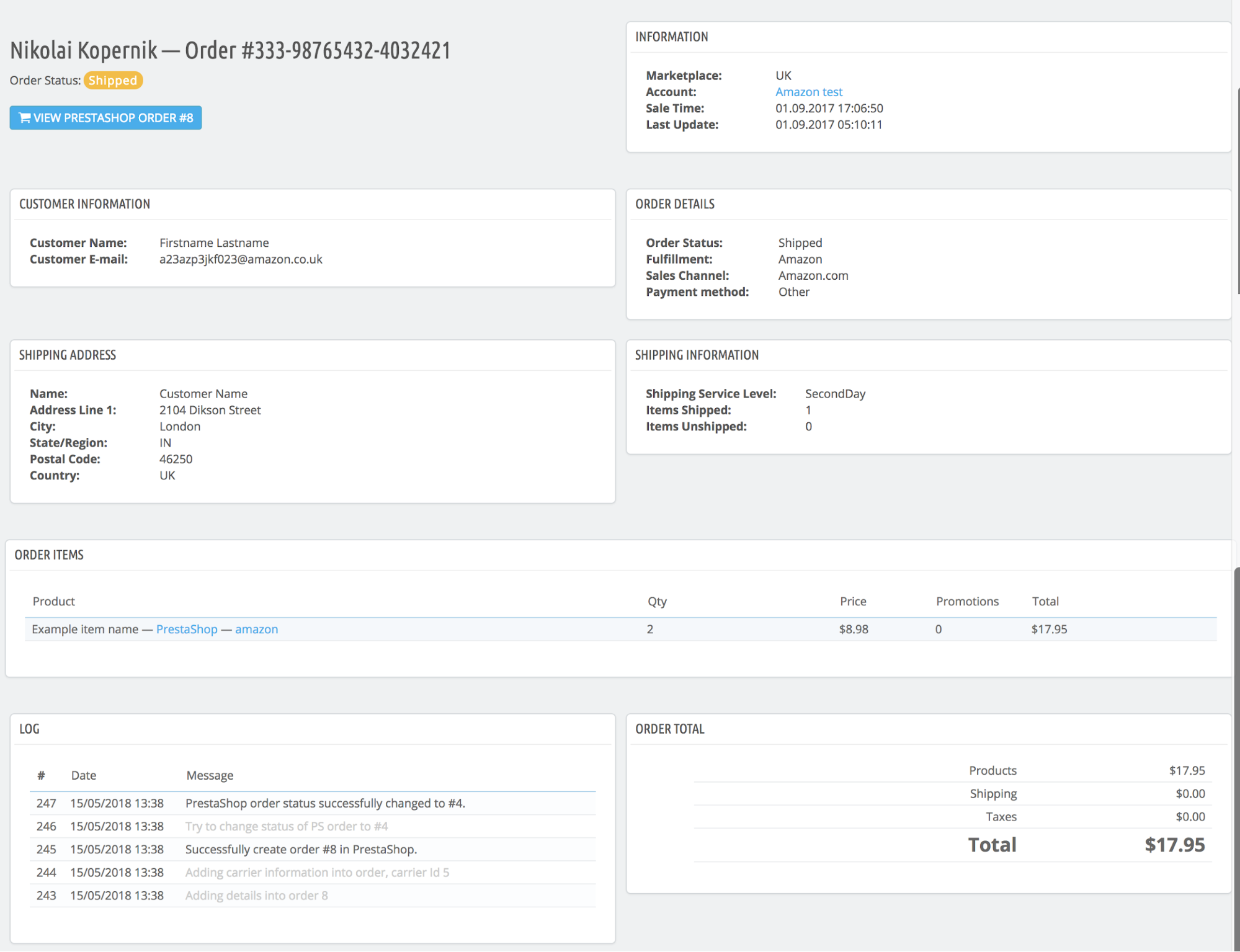 Salestio will show all types of orders – merchant fulfilled orders and amazon fulfilled orders.
But only merchants fulfilled orders are imported back to the Prestashop admin interface.
When orders get shipping in PrestaShop, Salestio catches these changes and transfers them to Amazon. And at this way you don't need to login to amazon seller central and set order shipped status.
Conclusion
All these metrics are very important, although they aren't the only ones you should be following. Get access to the whole range of seller's tools with the help of PrestaShop Amazon Integration.
If you have questions or would like to learn more, please contact us or even schedule a demo.